Primary, a former primary school just outside the centre of Nottingham, was set up to provide studio space and support for artists in the city, as such it offers a unique place where artists and the public can share ideas and experience work from around the world.
The Uncanny Canteen served both as a fundraiser for the Grade II listed building and as an introduction to the activities of the residents of Primary.
Billed as "A mysterious gourmet tour of Primary in eight courses," this evening of food, art and exploration promised to combine the culinary talents of Small Food Bakery's Kimberley Bell with work by many of the artists who find their home in this artist-led space.
The evening began with 'Khlebosolny' a ritual welcome across the threshold comprising sourdough bread symbolising hospitality and friendship, and salt symbolising preservation and longevity. Performance artist Chris Lewis-Jones, dressed as a waiter, played the accordion at the door.
Atmospherically lit and decorated, the central project space was transformed into a moody dining room – but first a trip to the bar for a Midland Bramble cocktail made from gin, lemon and locally made cherry wine.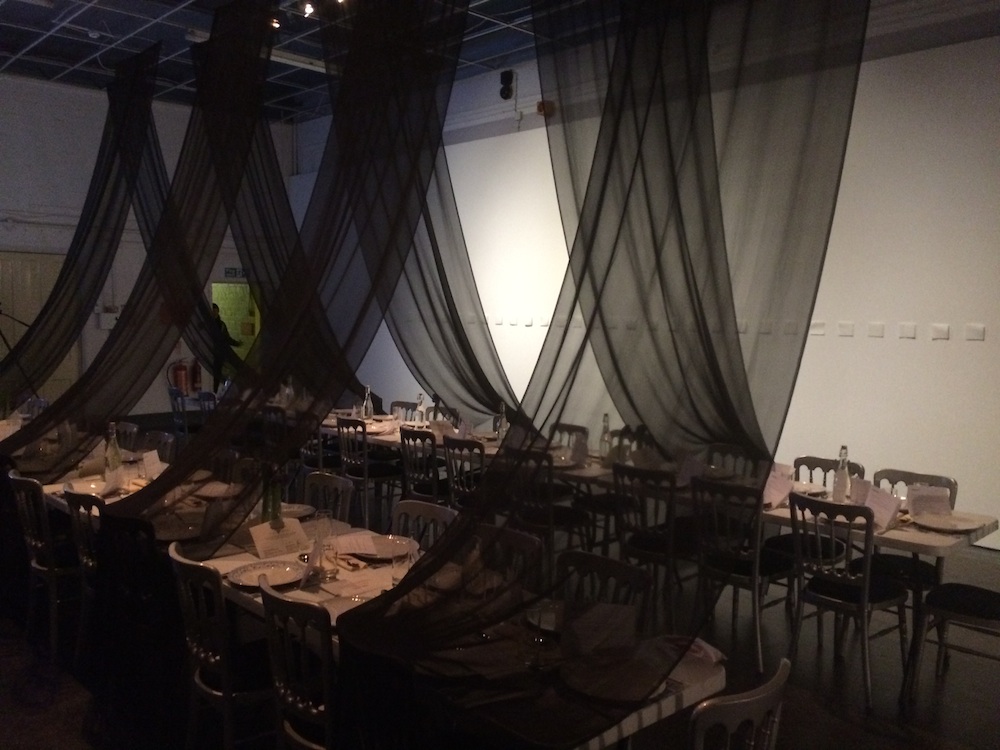 The next course led us to Russian born artist Yelena Popova's studio for The Black Square, a Constructivist inspired vodka cocktail full of fruit juices, vitamins and minerals.
Thus enlivened, we were led into the next space and presented with specially selected pieces of chocolate, while behind a screen, Rebecca Lee performed a piece for flute by Debussy.
Back in the bar, performance artist Simon Raven was swathed in silver foil to perform Human Canapé, his comment upon actors being hired at minimum wage to re-stage seminal performance works at an LA Museum of Contemporary Arts Gala. Cheese and pineapple on sticks, stuffed olives and performance art make one rather thirsty, so it was back to the bar for another cocktail.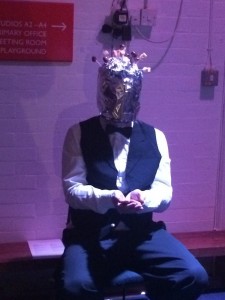 The next course led us into a private view at TG, the gallery space within Primary. The latest instalment of their installation, 'Occasional Table' was accompanied by nettle crispbreads topped with cheese and a stimulating slice of red chilli.
Eggs, heads and dust, the sixth course, offered hard boiled eggs, a selection of powdered vegetables and spices served with infused oils.  A glass-topped case filled with one of Nadim Chaudry's works made up of chicken skulls served as a table at which to eat the eggs and discard the shells, leading to some interesting reactions from diners.  The used plates looked like colourful discarded palettes.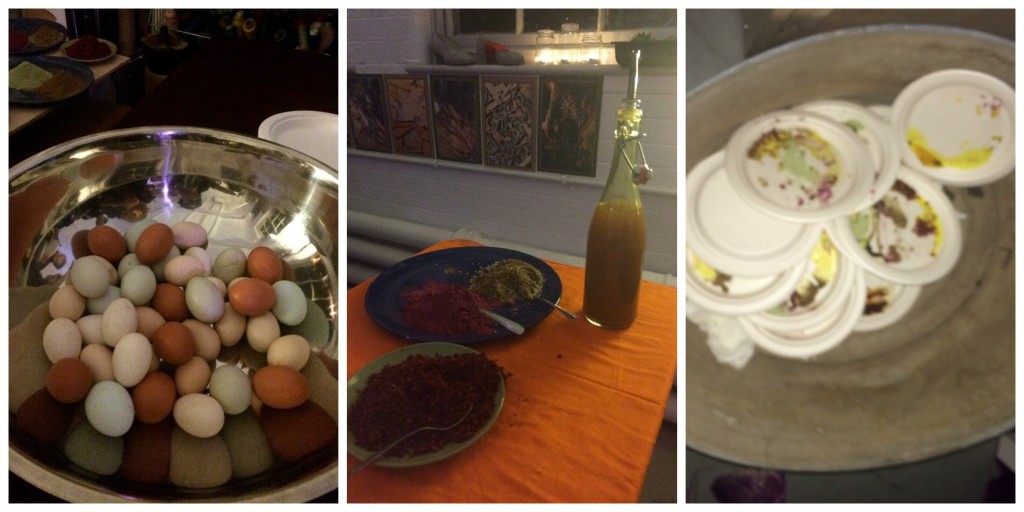 Back in the main hall we took our seats to witness Frank Abbot investigate a variety of historic and contemporary chopping and slicing devices, combined with a range of surveillance technology and home video equipment – part JML demonstration, part slapstick performance this made up SALAD – Live! which sadly didn't end up on our plates.
The next course devised with "farm artist" Georgina Barney, comprised a beef broth (with spirals of mooli) then slow roast brisket served with dripping on sour dough toast formed a portrait of the Blackbrook Longhorns. The breed are a living tribute to breeder Robert Blackwell whose worked helped usher in modern food production through selective breeding. Vegetarians were offered an edible tribute to agriculturalist 'Turnip' Townsend, who famously promoted a system of crop rotation which increased yields and helped fuel the industrial revolution.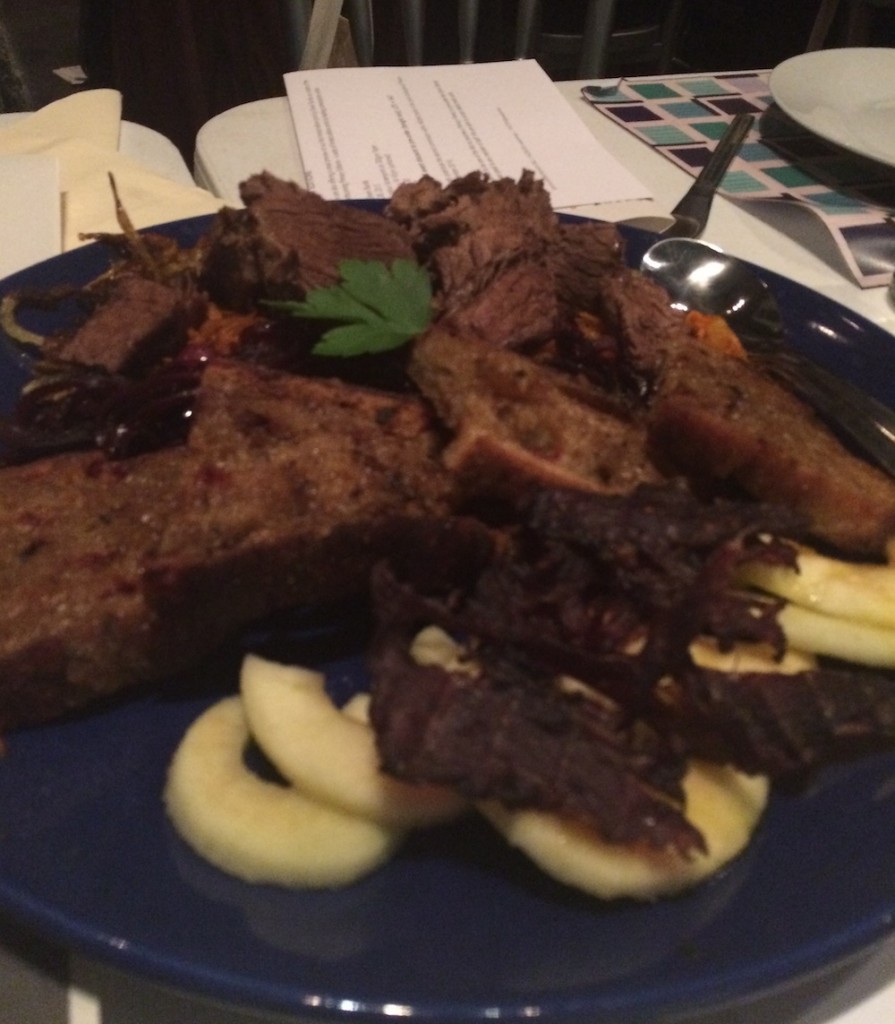 This was followed by a selection of geometric deserts, inspired by the home interior products of Joff and Olly, designers of Lane, whose studio also resides at Primary. A rose and liquorice battenburg, lemon and pear jelly and a blueberry and strawberry pannacotta brought colours to the sharing platters.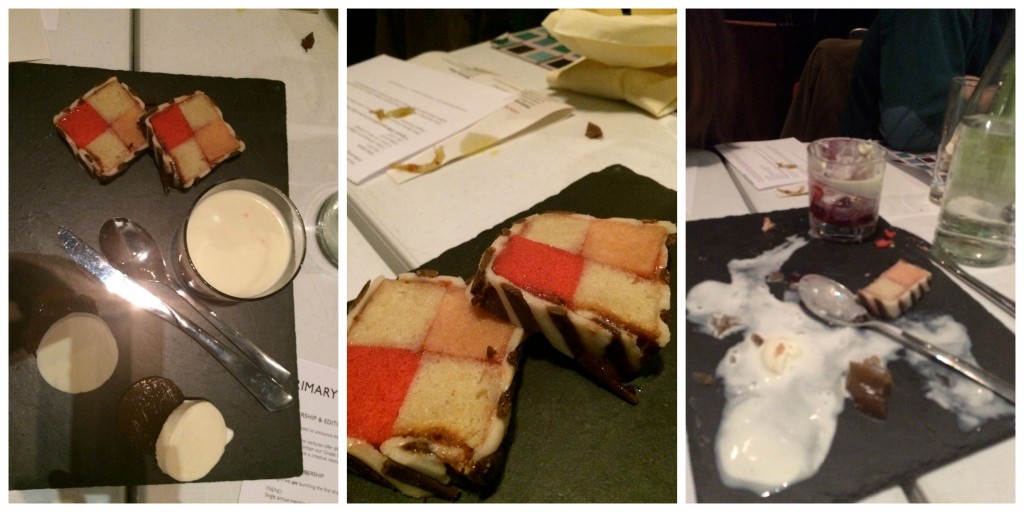 Coffee allowed an opportunity to visit Wayne Burrows' studio for a reading with The Holcolme Tarot, a fictional pack of cards exploring ideas of meaning and randomness… my reading: Pandora's Box, Altered State and Marriage symbolising chaos coming back into balance…
Finally, replete with local wine from Nottingham's Eglantine vineyard, a visit to 'A Séance with the Green Fairy', where no one was quite sure if we should be making contact with the other side or just eating the homemade absinthe fondants and fudges while artist Simon Withers lurked in the darkness.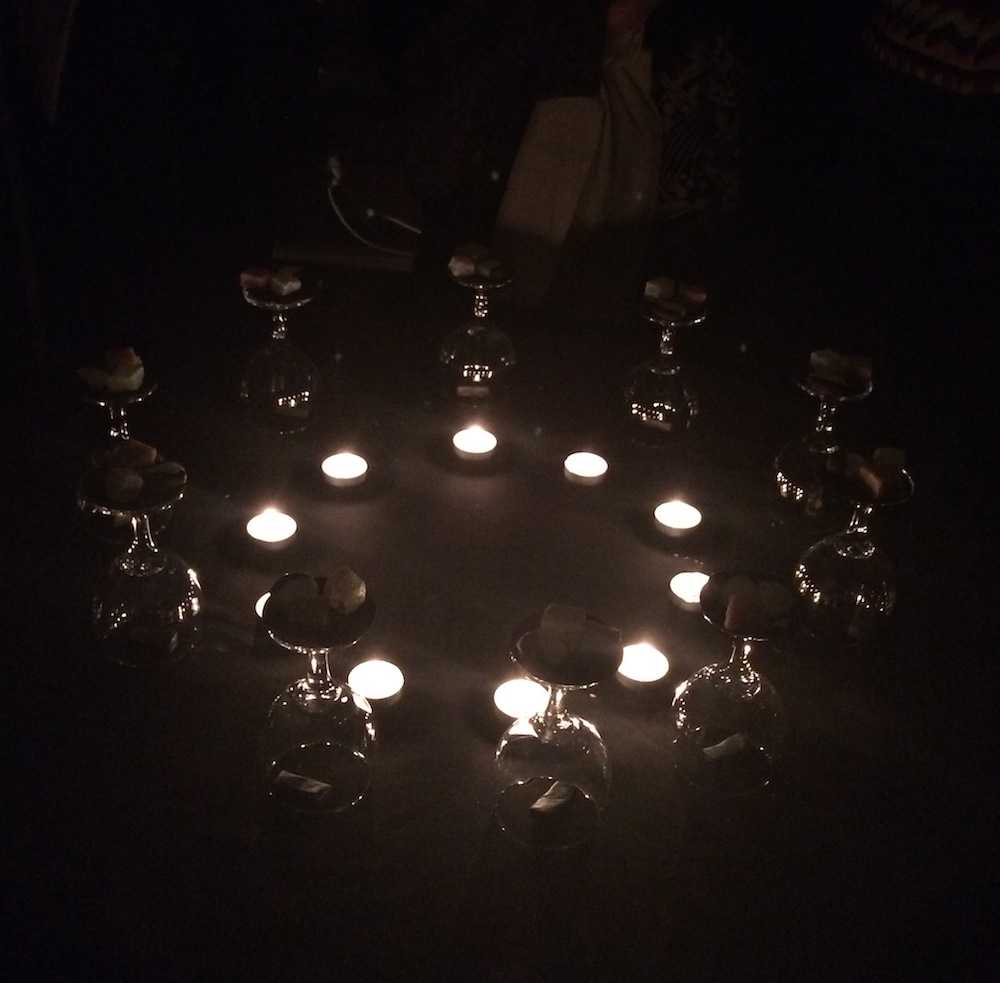 Primary is full of ideas and the artists who work there have found a way of collaborating together to great effect. Hopefully events such as this will help them raise the funds they need to continue their work well into the future.