"The Strangest Town in Wales" was how Dylan Thomas first described his adopted home of Laugharne (pronounced Larn – the 'laugh' is silent).
This "beguiling island of a town", a "legendary lazy little black-magical bedlam by the sea" has some unusual characteristics conferred by retaining the last surviving medieval corporation in Britain. It also has some impressive Georgian mansions, a ruined castle and beautiful views of Thomas's beloved "heron priested" shore of the Taf Estuary.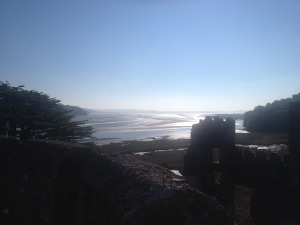 Stumbling upon the Strange Wales festival weekend in spite of their rather jumbled online presence (usually there is one Laugharne Weekend, this year for Thomas's Centenary there are three), I headed out of my comfort zone to see what unpredictable happenings were taking place.
At first it felt like a product of the special festival atmosphere, but one gets the feeling that Laugharne is like this most weekends – folks tumbling out of pubs and taking their pints into the church; the Tin Shed, casually billed as a 1940s experience doubling as a bar, handy for the gigs in the Millennium Hall.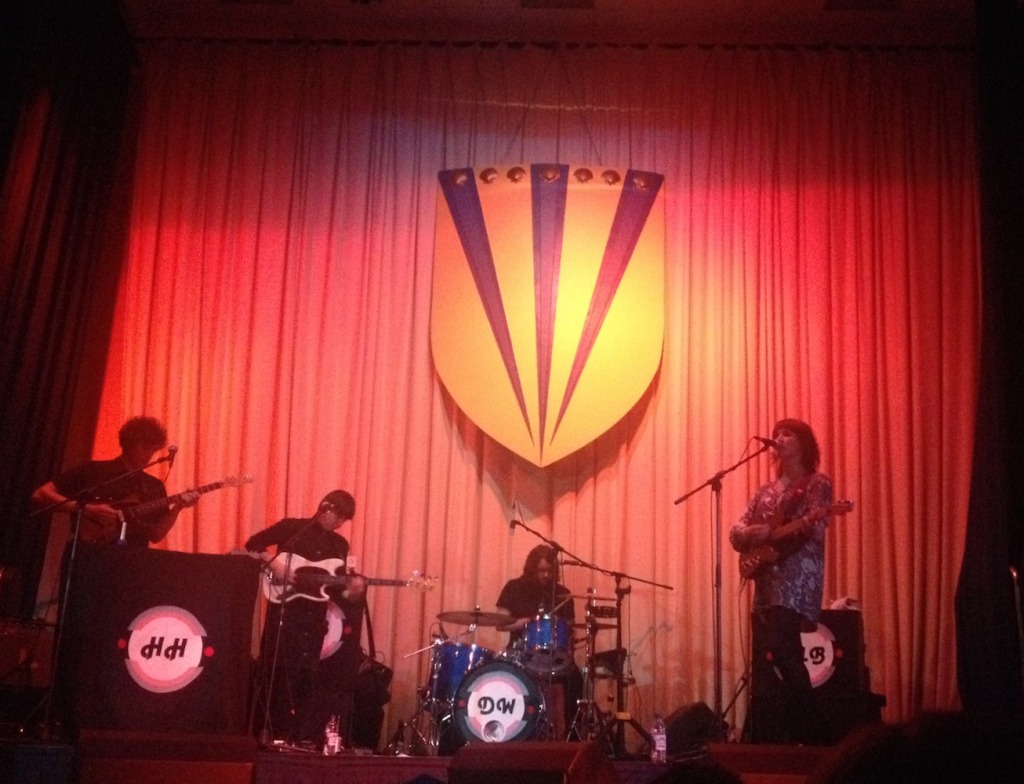 The celebrated Browns Hotel, and at least three more pubs makes for an interesting route through town. The Georgian scale of many of the buildings, larger than those usually found in a similarly sized Welsh village, are the legacy of a history as a busy cockeling port and the Castle, ruined by Cromwell's soldiers during the civil war. Eccentricity is embraced here, creativity encouraged and there is a looseness to proceedings that means nothing is ever quite on time.
On Friday I arrive in time to catch the night's Millennium Hall gig – Sweet Baboo with some campervan inspired acoustic indie then Cate Le Bon, playing most of her album Mug Museum, the end of a long tour which leads to some hi-jinks with carrots, and a closing cover of a Thin Lizzie number which sees the band relax.
In the congregational church up the road there is a woozy late showing of Gruff Rhys' film American Interior, where the Super Furry Animals songwriter traces his ancestor John Evans' journey across the states in search of a mythical Welsh-speaking tribe of Native Americans.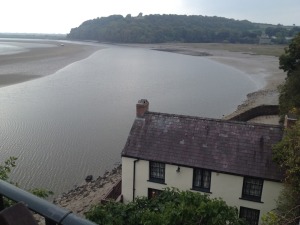 Left to my own devices on Saturday, I head first to the Boathouse, the house where Dylan Thomas lived from 1949 until his death in 1953. Here he wrote some of the major works of his late career including Under Milk Wood (which Laugharne inhabitants likes to claim is based on the characters of the town). After taking in the views and old HTV documentary, I peer into the recreation of his writing shed, perched on the cliff edge and decorated with pictures of his influences and dozens of crumbled papers beneath the writing desk. A walk along tree looped lanes finds the Poet's grave, an unassuming flimsy white cross heading a plot scattered with cheap boozers trinkets and tributes from all over the world.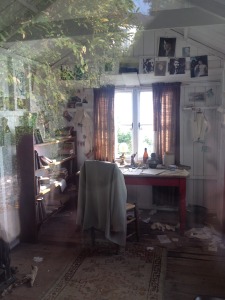 Back at to the unofficial festival hub, a reconditioned mobile library dubbed the Book Bus, where a few of the literati are gathered to browse through DT aficionado Jeff Towns' collection of Dylan-iana. Then into church again to catch the last half of the 1997 film Twin Town.
Following up on his debut's anarchic spirit, director Kevin Allen has returned to Wales to film Under Milk Wood. Here he presents a teaser trailer. Sharing some cast members with Twin Town, including Rhys Ifans, it promises to be a surreal, dream-like romp, filmed in both English and Welsh language versions. Allen takes questions from the audience, many of whom took part in the filming as extras. He claims that the somewhat bawdy play, originally written for radio, will gain a new audience from his highly visual interpretation and if he had his way the poster would bare the legend "it's all about the shagging".
A quick dash to the Rugby Club to catch the end of a noisy set by young Cardiff-based band Joanna Gruesome, then it's back to Browns for a few pints with some new friends. The rest of the evening – Krautrock from two man outfit R. Seiliog and then luminaries of the Post Punk scene Young Marble Giants take to the stage for the first time since 1979 – goes by in a pleasant haze.
On Sunday, a restorative B&B breakfast and it's back down to the explore the castle in the sunshine. An unassuming summer house in the grounds provides another writers bolt hole, once owned by Richard Hughes (author of A High Wind In Jamaica) and also used by Dylan Thomas.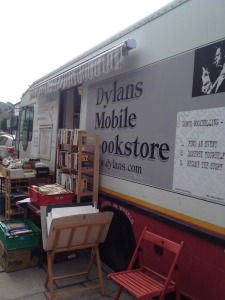 Hannah Ellis, the poet's granddaughter, teacher- turned advocate of creativity in education, speaks eloquently on her hopes for a future Dylan Thomas Foundation, to bring his work to a new generation. Dylan failed at school, his imagination and creativity perceived as bad behaviour. Wandering around Laugharne, getting into mischief, exploring and going with the flow helps one realise how constrained one can be by such convention.
The unseasonal late sunshine is too bright to give up for a Wickerman-esq documentary in the church and soon the lure of golden ales and a John Martin tribute draw us back to the Tin Shed.
Later, after a minimal electro set from newcomers Trwbadour, local bookshop owner and former music journalist George Tremlett is upstairs at The Cross Inn talking about his co-authorship with the poet's widow Caitlin of a definitive biography – his involvement suggested by Ted Hughes after reading his interviews with 1970s pop names including Marc Bolan and David Bowie. Thomas was rock 'n' roll ahead of time and his influence had been weaving a spell over Tremlett for years before his involvement with the project. He goes on to debunk myths about the circumstances of the poet's death and to suggest that we shouldn't allow reputation to stand in the way of the immortality of the work.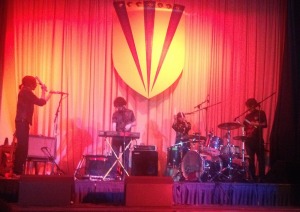 Back down at the Millennium Hall, Islet take the stage banging on a variety of percussive bars, bells and drums. They are a band full of energy and invention, gestures and rhythms and it makes for the best performance of the weekend.
Gruff Rhys, this time in person, is in contrast a whimsical, witty presence and tells the story of John Evans complete with his specially commissioned puppet, through a selection of songs and anecdotes which slips from English to Welsh and back again so smoothly that it's almost possible feel like you're learning some scraps of the language as he goes along.
Outside, the weather has turned cold and skipping more films in lieu of a lift back up the road, the B&B beckons once more.
Waking up to one more over the top breakfast and the odour of egg and bacon, there is time for then one more look at the gloriously shiny bay before taking a bus to the relative normality of Carmarthan – so different Laugharne already seems like a fevered dream.