This weekend saw me drop everything and head into Nottingham for a series of connected events that I only realised were taking place when I fortuitously caught a tweet promoting this article in Left Lion.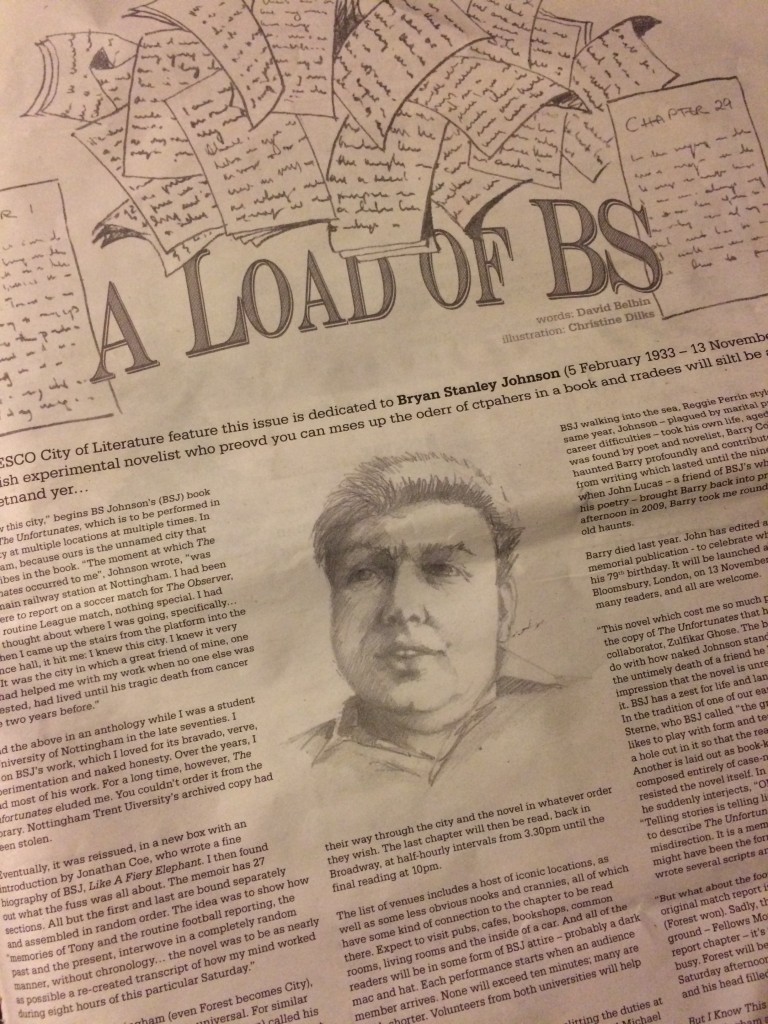 I had forgotten or perhaps misremembered that Nottingham was the unnamed but vividly described city that features in B S Johnson's book-in-a-box The Unfortunates. I had added this experimental novel to my very long list of "books to get around to" after devouring Jonathan Coe's biography of Johnson, Like A Fiery Elephant some years ago, but never found a copy and it had fallen out of my mind as newer books with less dark themes had usurped my attention.
On Friday night it transpired that Jonathan Coe was to be in Nottingham at the behest of the Broadway to present Dead of Night,  the celebrated Ealing Studios portmanteau film made in 1945. As it turns out, the keen cinéaste Coe uses the structure of five connecting stories for his latest novel Number 11… his earlier novels What A Carve Up and The House of Sleep are among my favourites.
After Dead Of Night, talking about his new book and signing copies for the faithful, Coe stayed at Broadway to present a rare screening of films by B S Johnson including the idiosyncratic documentary Fat Man On A Beach, which had introduced Johnson's work to Coe when he was a child…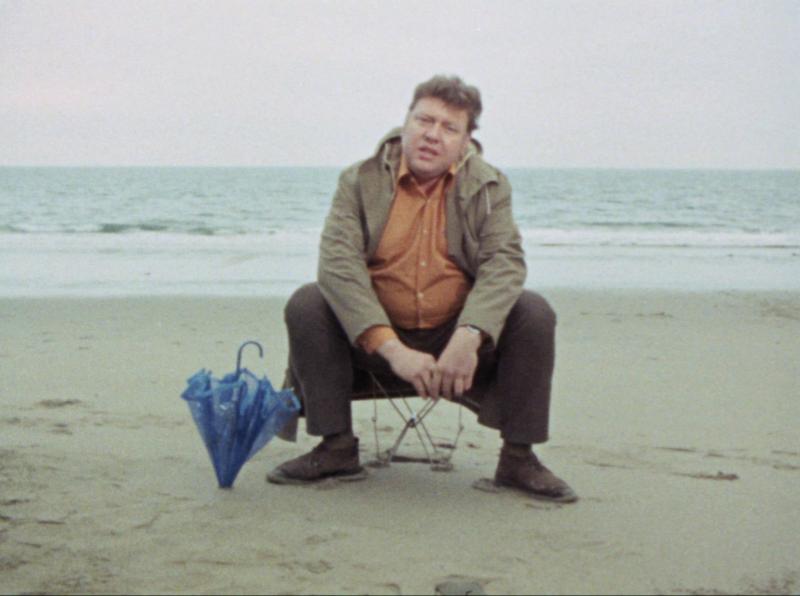 Fat Man On A Beach is funny, strange, confounding, silly and, with the fore knowledge of Johnson's early demise just weeks after it was broadcast in 1974, deeply effecting.
It served as a wonderful re-introduction to the author and a fitting prelude to the following day's event, But I Know This City,  a community reading of The Unfortunates organised by Excavate theatre for Being Human Festival.
Not entirely sure what to expect, my friend and I showed up at Broadway for the first chapter and began a whole day of extraordinary experiences finding readers at locations all over Nottingham.
In 25 cafes, basements, bookshops, several pubs, a parked car, a front room (on the Promenade, my dream street), inside the Council House and performance pods at Nottingham Playhouse, we found ourselves asking "Are you Bryan?".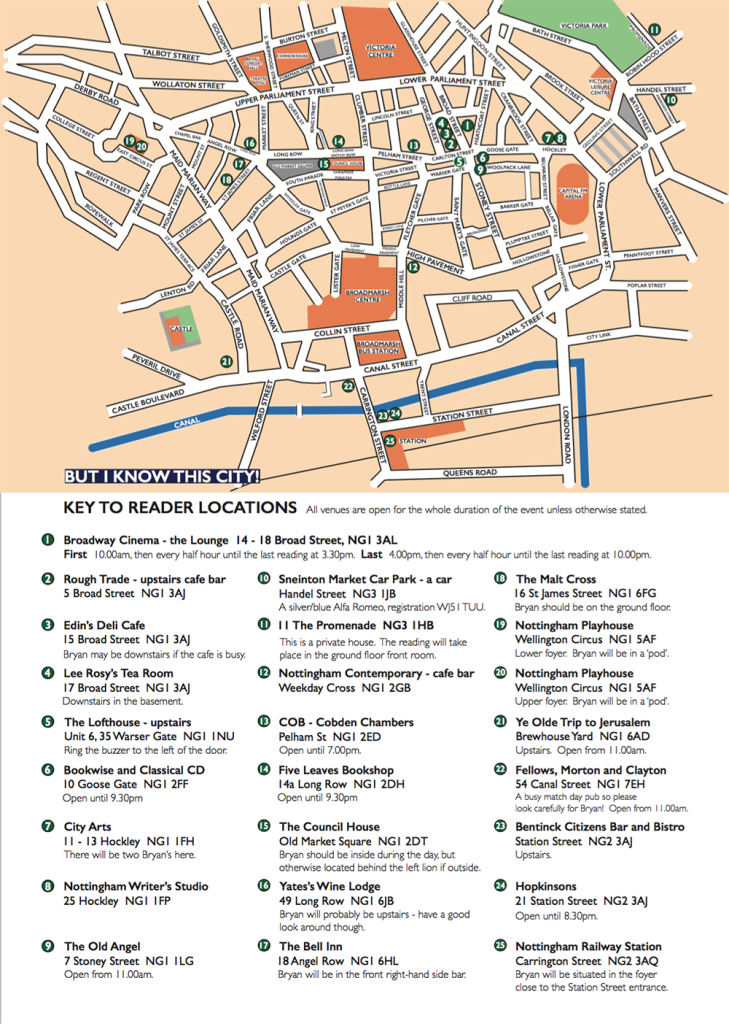 Rehearsed readers at each location read the loose-bound chapters of The Unfortunates and gradually the novel was reconstituted as Johnson's memories of Nottingham, reporting on football matches, his student days and his friend Tony came into focus. Descriptions of food (memorably some chips that redeem a meal), of meetings and visits, of friends and lovers recur through the story woven around recollections of the illness and heartbreaking early death of Johnson's Nottingham friend Tony.

The Nottingham of the 1960s was vividly conjured as many of the locations we visited over 8 hours (with a long break for lunch) were described.
An examination of grief and the nature of memory, The Unfortunates is at times raw and intensely moving, qualities emphasised by these intimate readings, leaning in to hear in the noisier venues, huddled around pub tables, scurrying through the freezing dark to find the last few venues…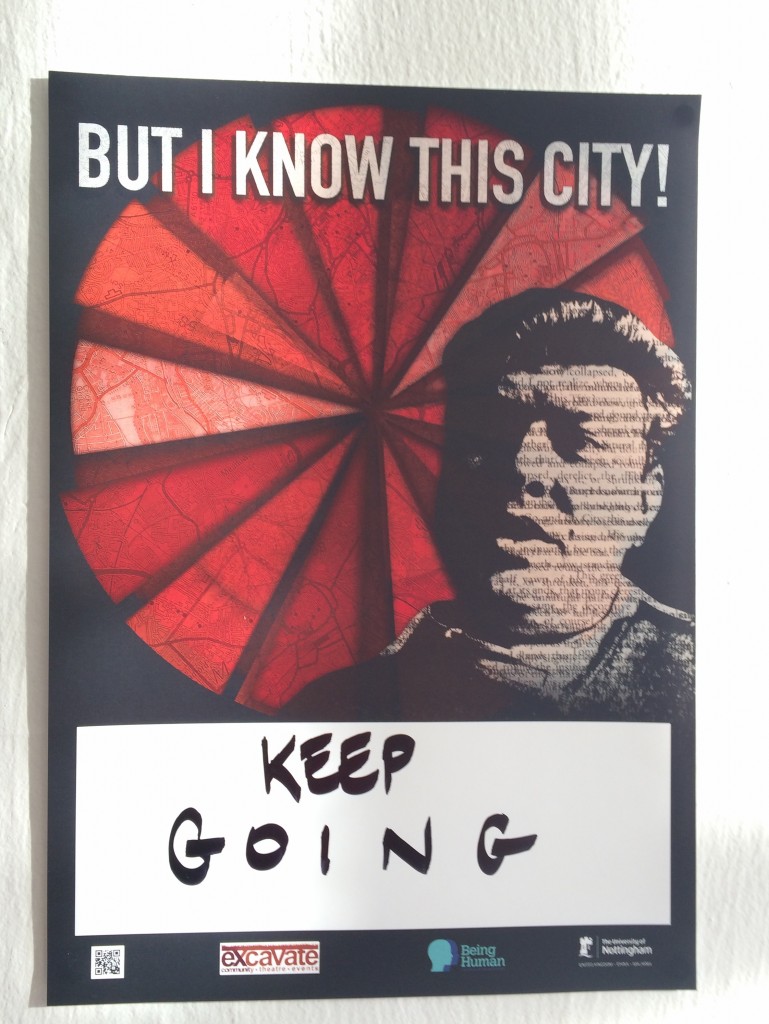 Back at Broadway we tracked down the last two readers, driven inside by the cold. Two more chapters read to us in the bar.
We managed to witness the final chapter (thank you Andy) and the collected props in the Broadway's lounge and were among around a dozen people to experience all 27 chapters… including Jonathan Coe's recording of the shortest chapter.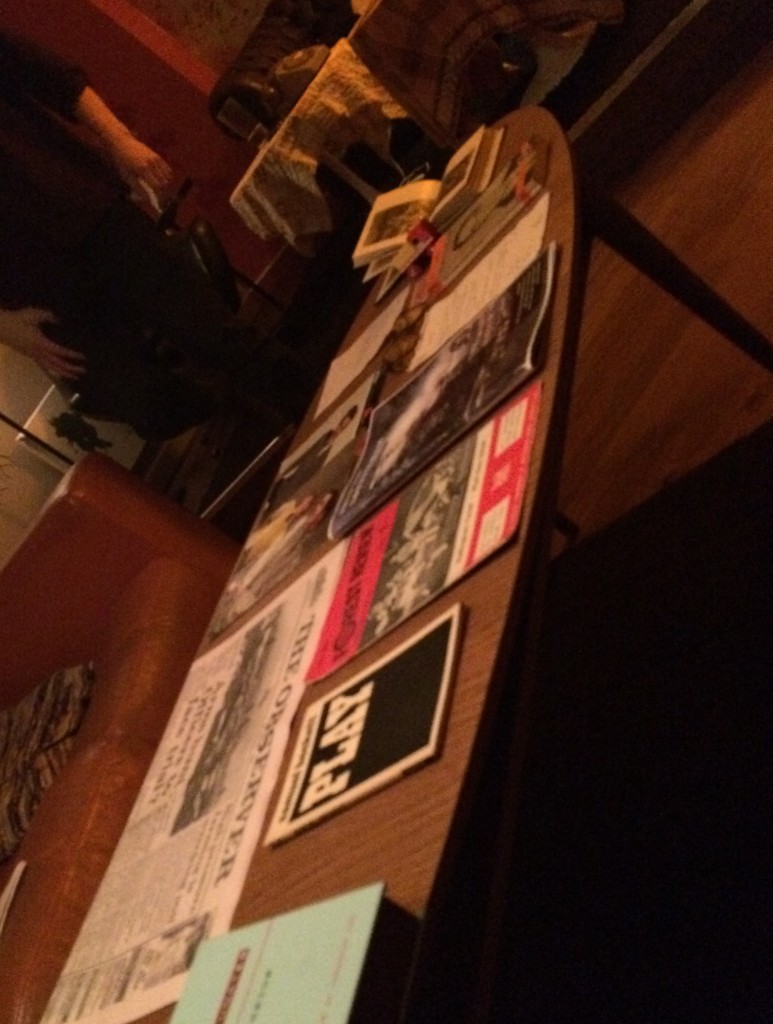 Tweets from the day #ButIKnowThisCity
Nottingham author (and Bryan for the day) David Belbin's blog on But I Know This City of Literature.