Last month I went down to London to hear the premiere of Steve Reich's Radiohead-inspired piece Radio Rewrite at The Royal Festival Hall.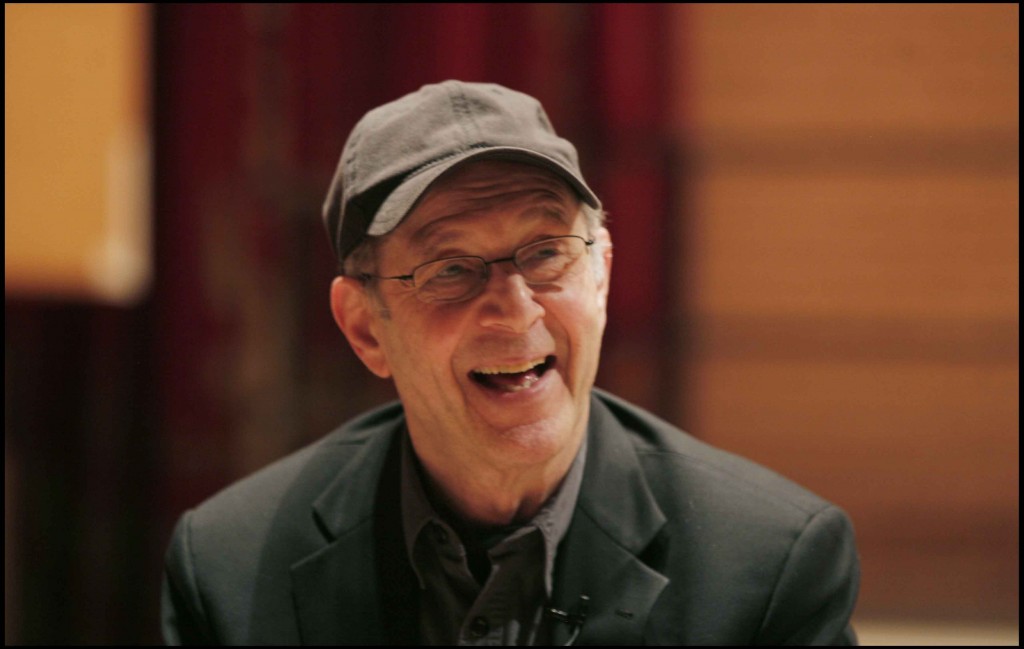 My crash course in the music of Steve Reich begins in London. My visit is to attend the premier of his new piece inspired by the music of Radiohead, performed by musicians of the London Sinfonietta.
We live in an age of musical convergence, and it seems only fitting that the man described as "the single most influential composer of the late 20th century" should bridge the gap between contemporary and popular music in such a way.
This is not the London Sinfonietta's first association with Radiohead. They collaborated with Jonny Greenwood (along with Thom Yorke and the Nazareth Orchestra) for 2005's Ether Festival and have often performed Greenwood's pieces for orchestra, Popcorn Superhet Receiver and Smear.
It was a meeting with Greenwood that sparked Reich's interested in Radiohead's music. The guitarist performed the composer's Electric Counterpoint at a festival in Poland. Impressed by Greenwood's interpretation of his work, Reich found time to listen to Radiohead and was drawn to two songs in particular: Everything In Its Right Place and Jigsaw Falling Into Place.
It is fitting for me to be back at the Royal Festival Hall for this performance. This is the same stage on which I saw Radiohead perform material from Kid A at 2000's Meltdown Festival, the first UK performance of those songs.
Kid A draws on electronic and minimalist musical influences and is regarded as a breakthrough for a band who transcend simple description as a "rock" act. This shouldn't have been a surprise, after all this is the band that used Olivier Messiaen's stark Quartet for the End of Time – written when the composer was held in a World War Two concentration camp – as intro music for their shows way back in 1995.
To my rock-trained ears Steve Reich's precise, tightly notated works, performed in the rarefied atmosphere of the symphony hall, seem a little clinical. Clapping Music, using the technique of subtly shifting the phase of rhythm, is deceptively simple; Electric Counterpoint, here performed by Mats Bergstrom, is made up of shimmering guitar chords over a prepared backing; 2×5 plays with a rock band format while fitting into the Reich's classical music lineage.
There are sounds that remind me of Tortoise and other "math rock" bands in 2×5 yet it is "chamber music for rock instruments" driven by bass and piano rather than drums. For Double Sextet, Reich mans the mixing desk in his distinctive baseball cap.

Radio Rewrite comes in the second half. I can catch the melodies more easily than the harmonic progressions, there are shadows of the Radiohead songs as it moves from slow to fast, from Everything In Its Right Place to Jigsaw and back. Threads of the songs remain but they're hard to spot. These are not two songs I would have linked together, but certain chords ring out as similar to Reich's other works, there are moments where you can identify Radiohead but as channelled through Steve Reich's ears.
My experience of Everything In Its Right Place is as a visceral live concert closer. I've stood in a huge crowd numerous times and clapped the off-beats to Phil Selway's drums and it's astonishing how the same piece of music can inspire such utterly different reactions and interpretations.
Steve Reich talks briefly about the work at the end of the show, the structure of the song, the way it is dissonant while still having a tonic… I don't have enough theoretical language to explain it but I understand what he means. It is EVERYTHING.